Primitive Technologies, Inc. (PTI) recreates the material culture of prehistoric Native American life.
---

PTI's Founding Director
Jeffrey Victor Kalin, PTI's Founding Director, has 25 years experience in his field. He has been the subject of numerous newspaper articles, and has been guest speaker at many historical societies, museums and universities.
Mr. Kalin is a consultant to museum curators and archaeologists in the analysis of artifacts. He is a recognized expert in Clovis point replication and other types of stone tools. He has constructed prehistoric sets and props for filmmakers. His wood-fired replica pottery, hand-built from river clay, is in private and public collections. Skilled in all aspects of native American indigenous arts, Mr. Kalin has taught those skills to others, including hands-on workshops for all ages of children and adults.
Indigenous Structures
PTI has built nearly 200 aboriginal structures, either free standing or congregated in villages.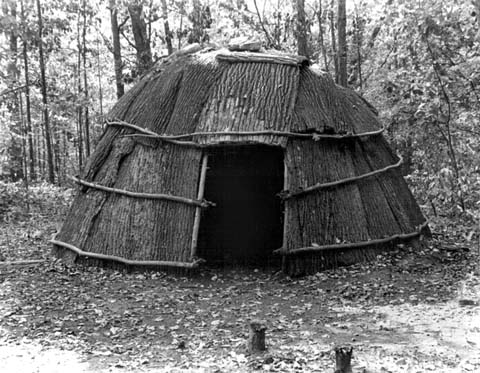 Some of these wigwams, long houses and shelters are permanent installations in living history settings; others have been seen in temporary museum displays and festivals. The utensils, tools, musical instruments and furnishings are made with the animal, mineral and vegetable products of the natural environment.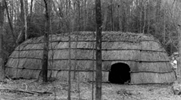 Beginning with a walk in the woods, PTI workers gather materials, process those materials and assemble structures using the tools of the time: stone axes, flaked hand tools and fire. Mr. Kalin, as pictured upper left, has adzed and burned dug-out canoes from single logs.